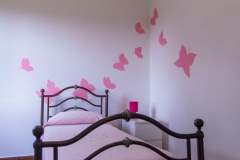 Rates
Check-in is from 12:30 on the day of arrival and rooms must be vacated by 10:30 on the day of departure.

Breakfast is served from 08:00 to 10:00

Children 0-6 year's stay for free.

Group discounts available and for those staying longer than 7 nights (even in high season!)

Pets Allowed but this does depend on availability. They will be accommodated in comfortable facilities just outside of the B&B.
In order to use the accommodation, a deposit of 30% of the entire amount of the stay must be paid at the time ok booking.
The deposit will not be refunded for no show.
*credit cards not accepted
Rates
The rates for the rooms are:

Single room from 30 EUR to 40 EUR

Double room from 50 EUR to 80 EUR
another news & events