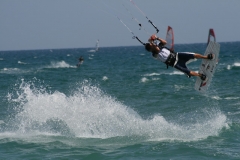 Kitesurf is the way
…kite surfing

Fancy trying your hand at an extreme sport?

The power and strength of the wind in your hands, balance and elegance as you glide over our beautiful Ionian Sea. The shape of our coastline allows us to enjoy the right wind from all directions.

The Bed and Breakfast Morsu Alba has an agreement and associated with the commercial "Namurra" (visit the website http://www.namurra.it).

Join the kite surfing sessions!

You will find…

• Options for kite boarding and windsurfing at locations all along the coast.
• Option to take courses in basic, intermediate or advanced by certified instructors (*prices vary from instructor to instructor)
• Special rates for groups.

another news & events